Hard Copy Ticket Sponsor

It can be tough to know who you can trust when it comes time for a home renovation. That's where RenovationFind.com comes in – we are free resource helping homeowners connect with the most qualified, vetted contractors and home improvement companies in the business. Our rigorous certification process means that you'll be able to avoid "bad contractors", so your renovation goes exactly as planned. Whether you need help with a big renovation project or just a small job, we'll help you find the perfect contractor for the job. Ready to get started? Visit us www.renovationfind.com today!
RenovationFind Certified contractors and companies have been vetted and continually monitored for your peace of mind. They go through an extensive legal and financial credit background checks, and they provide valid business insurance, business license and Worker's Compensation where required.
The RenovationFind Certification program offers a way for our members to increase trust by providing a powerful but simple reputation management software and services only for contractors and home improvement companies. To learn more, email info@renovationfind.com to book a free demo!
So whether you're a homeowner in need of reliable home improvement services or a contractor looking for more customers, RenovationFind.com is the ultimate solution.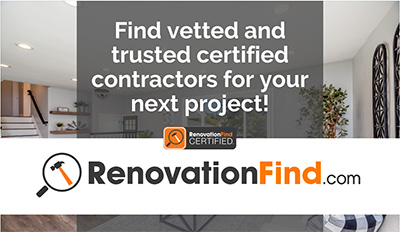 ---
OFFICIAL PAINT SPONSOR

Cloverdale Paint has had a special relationship with its customers ever since the company was founded in 1933. That relationship was built on a commitment to exceptional quality and superior customer service. From humble beginnings on a farm near Cloverdale, BC, we've grown into one of North America's largest regional paint and coatings manufacturers. With over 165 corporate stores and independent authorized dealers across western Canada, Cloverdale Paint serves the needs of all customers looking for exceptional quality and service. From Home Owners through Professsional Painting Contractors and Industrial Applicators, Cloverdale Paint has all the paints, stains and coatings – along with friendly and professional advice – to satisfy the most challenging painting projects.

www.cloverdalepaint.com
---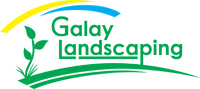 Galay Landscaping has been adding beauty and value to residential and commercial properties since 2003.

Our trained and certified team of landscape professionals have the tools, the passion, and the know how to transform your vision and ideas into reality.

Galay Landscaping has been the recipient of numerous awards from MBNLA (Manitoba Nursery Landscape Association), including the Award of Excellence for quality construction and design.

We have an A+ Better Business Bureau rating, as well as being BBB Torch award finalists for outstanding customer service and satisfaction.

We pride ourselves in a culture built around exceeding our customers expectations, and delivering results.
galaylandscaping.com
---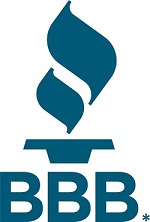 Better Business Bureau (BBB) is a non-profit organization in your community. We focus on helping and educating businesses and consumers. We are the longest serving BBB in Canada, having just celebrated our 90th anniversary. Between 35,000 and 42,000 consumers visit the BBB Manitoba and Northwest Ontario website monthly to research businesses. We provide transparent information about interactions between businesses and consumers which builds trust in the marketplace. Visit BBB.ORG before you buy.
---

Monica started CURRENT Winnipeg with a desire to build a community of people who appreciate the same things she does ... events with a beautiful aesthetic, great food and drinks, and supporting small, local businesses. The intention was to launch the concept with a summer festival and build from there.
Then COVID hit.
So, with the festival postponed twice, she decided to switch the focus in 2021 from large, energetic gatherings to smaller, more pandemic friendly ones.
The desire remains the same: Gather people with great local food and drinks and beautiful aesthetics.

For over 70 years, Lacoste Garden Centre has been the premiere garden centre in Winnipeg.

At Lacoste, we pride ourselves on continuously providing our customers with the best service, variety and garden centre experience with each and every visit.

Sitting on six acres of land on St. Mary's Road, Lacoste features six working greenhouses, a huge retail yard and a home and garden decor gift store. We have ample parking available for all of our customers, even during the busiest times of the year.
lacostegardencentre.com
---
IDESIGN - interiors by Kristin
Kristin Hayward is owner of IDESIGN – Interiors by Kristin. IDESIGN is an award winning design firm awarded " Best for Contemporary Design" 2018 Leading Designers Award and featured in Luxlife Magazine. IDESIGN was established in 2014, by Kristin who has a passion for design and project management. Kristin has a Diploma in Interior Design and a University Commerce Honours Degree; this diverse experience allows her to put an analytical spin on design and enables her to create beautiful, sustainable, and functional spaces while managing projects to ensure they stay on-time and on-budget.
Her unique, edgy and innovative interior design firm provides a turnkey approach for her clients. IDESIGN provides services from initial concept planning and budget to executing all phases of construction.
interiorsidesign.com
---
Peachy Green Events
The Peachy Green team, with 20+ years of event planning experience, offers exceptional customer service & a friendly relationship while being involved in every aspect of the event from conception to clean-up. They also offer a unique list of ideas & designs, such as having an all in one event location to reduce emissions, having wedding outfits made from organic or recycled material, using jewellery made from local & recycled materials & renting decorations/equipment instead of single-use disposable items whenever possible. Even using seed paper for event stationary or using an event website instead of paper all together & many more eco ideas. They can also recommend local, eco conscious businesses where clients can get these items. This saves on emissions from shipping in items like flowers from South America & can support the local economy while not worrying if a company uses non fair trade or un-ethical practices.
What ever your next events is Peachy Green Events & Rentals looks forward to using their expertise in helping make your next event one of a lifetime!
---
Thank you to our sponsors & partners