The Perfect Guide to Visiting the Winnipeg Home + Garden Show
Apr 4, 2019, 14:32 PM
Excited to start those spring home projects? It's time to begin on some home and design updates–whether you haven't made any changes, or you've already made big moves–it's time for some inspo! Springtime is the perfect season to make new changes and celebrate the sun that's on its way! This year's Winnipeg Home + Garden Show is perfect for sparking creativity and giving you the motivation you need to take on home projects. Whether it's decisions about paint colours or functionality of furniture, your home is all about you. Find out what you like and what works for you and your vision, with the help of over 280 trusted brands.
Opening today at the RBC Convention Centre, the Show is happening all weekend from April 4-7, 2019.
With so many booths and features to check out at the Show, you don't want to miss a thing. This Perfect Show Guide will give you all of the details and tips so you can absorb as much as you can during your visit. Get ready to dive into all things design and grab expert advice so you can get started on your projects with inspiration and knowledge!
Before you go:
Before you head down to the RBC Convention Centre, be sure to have your Winnipeg Home + Garden Show tickets in hand. Save yourself some time and money when you buy your tickets online and save $2!
Now that you have your tickets, it's time to head to the Show at the RBC Convention Centre, located at 375 York Avenue, in Winnipeg, Manitoba. If you're planning to drive, parking is available at the RBC Convention Centre Winnipeg Parkade or you can park at any of the nearby outdoor and indoor lots, as well as on metered spots on the adjacent streets. For more details about parking, rates and directions, check out the RBC Convention Centre parking information page.
First things first:
You've made it! Now that you're here, it's time to soak up all that the Show has to offer, including special Show features, presentations and must-see stops! An absolute favourite is the Blue Moon Furniture Main Stage, where home and garden experts can be found chatting about all things design, gardening and home renovations.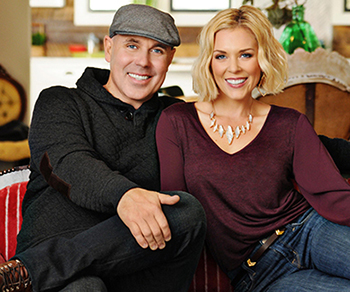 Presentations at the Show this year include Kortney and Dave Wilson from HGTV Canada's Masters of Flip, speaking to all things about home value. Other headliners include Carson Arthur from Home to Win, with advice on designing and creating the perfect landscape for your home. Stop by to see creative designer Amanda (Forrest) Aerin as she inspires and guides you in the right design direction. Other presentation topics from experts cover food gardening tips, how to get a good sleep and so much more about design and home renovations.
Insider tip: Be sure to stick around after each presentation for your chance to take a picture and chat with the celebrities at their selfie sessions directly after their presentations.
When: April 4-7, check out the Blue Moon Furniture Main Stage schedule available here.
Kortney & Dave Wilson, HGTV Canada's Masters of Flip
Friday, April 5th at 6PM
Saturday, April 6th at 12:30PM
Carson Arthur, HGTV Canada's Home to Win
Thursday, April 4th at 6PM
Friday, April 5th at 3PM
Saturday, April 6th at 11:30AM
Amanda (Forrest) Aerin
Thursday, April 4th at 7PM
Friday, April 5th at 5PM
Saturday, April 6th at 2PM
Where: The Blue Moon Furniture Main Stage, presented by the Winnipeg Free Press
Talk to the experts:
Now that you've watched some presenters on the Blue Moon Furniture Main Stage and you've made your way around some of the popular booths, visit The Design Studio presented by Style Manitoba, sponsored by Cloverdale Paint and designed by Adorn Interior Decorator Service with furniture provided by Blue Moon Furniture. If you need help picking out the perfect colour or designing a small space with new furniture, The Design Studio has you covered! Visit local decorators and experts for a 15 minute free consultation to discuss all the design or home related idea/questions you have. They'll be sure to guide you in the right direction and provide you with personal, valuable insight you can't find anywhere else.
If you already have your design vision and need help on the renovation side, chat with the pros at Ask a Renovator presented by the Manitoba Home Builders' Association and Home Décor and Renovations Magazine. You can book a free consultation and ensure your questions get answered before you start tearing your house down.
Where: The Design Studio (Booth 1474) and Ask a Renovator (Booth 543)
DIY Inspirations: Bedroom and Living Space, sponsored by Rust-Oleum Canada: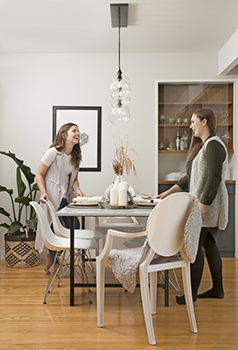 Need to revitalize your home this spring? Be sure to have DIY Inspirations, designed by Winnipeg's own J & J Dwellings on your must-see list! Get inspired and motivated to create your very own DIY projects to add some fresh personality to your bedroom or living space. They have revamped this bedroom and living space with easy DIY projects to inspire you; it's the perfect stepping stone to designing personal and unique home décor.
Home Away From Home, Landscaped by Galay Landscaping. Patio furniture provided by LCL Spas, Storage Solutions provided by Garage Masters
Did someone say new Show feature? Want to create your very own home away from home, but don't have enough inspiration? Visit Home Away from Home, a fully decorated and outfitted cabin and shed that will provide inspiration for your dream cottage space. This wonderful feature is presented by Premier Portable Buildings, and is a great stop at the Show to dream up your personal escape!
Where: Home Away From Home (Hall C)
Pop-up Market
After spending the day absorbing all of the home and garden information your brain can handle, it's time for something new. The Pop-up Market is where you can do some one-of-a-kind retail shopping that will be sure to spark some joy! Who doesn't love local and chic options, while brainstorming the design of your new space? Pick out some accessories for yourself this spring and treat yourself.
Where: Pop-up Market (Hall C)
Eat, Drink & Relax in Pure Style
After hours of designing, planning and imagining your dream home, it's time to take some time to fuel yourself. Head to The Lounge and grab a glass of wine (or two) and sit back and relax; it is the weekend after all! The Lounge is designed by Premier and it's the perfect place for some much needed time to reflect on everything you've learned from the various presenters, booths and experts at the Show.
Where: The Lounge
Share your special moments
Did you have a favourite booth, presentation or expert? Once you've seen it all, be sure to share the moments you loved most from the Show on social media using #WHGS19 so we can see your favourites! Follow along with @wpghomeshows and #WHGS19 on Twitter and Instagram for everything happening this Show.
Get ready to have an exciting and eventful weekend at this year's Winnipeg Home + Garden Show! Visit the Help Desk at Booth #716 where you can find out more information about the Show and plan out your visit. Leave the Show feeling ready to tackle your spring home projects with knowledge, advice and inspiration from this fun weekend! Purchase your tickets online for the Winnipeg Home + Garden Show and save $2!